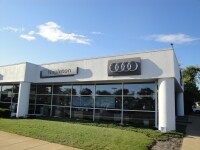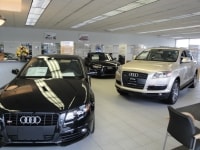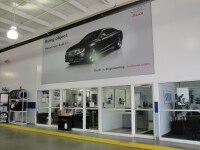 We're pleased to welcome you to the Napleton Auto Group. Our family has been selling and servicing vehicles since 1931. Today there are more than 60 Napleton Auto Group dealerships in four states, providing thousands of customers with unmatched service and an unbeatable price.
Every dealership in the Napleton Auto Group is guided by a single principle-putting the customer first. From 1931, when Edward W. Napleton opened a small Desoto dealership on the south side of Chicago, to the more than 60 Napleton Auto Group dealerships our family owns today, our commitment to customer satisfaction shines through at every Napleton dealership.

From an experienced, knowledgeable sales staff that makes sure you have a no pressure buying experience, to our extended service hours, we're dedicated to providing you with the best possible experience. That's why we offer free service loaners, why our customer lounge areas have complimentary Wi Fi and cable TV, and why you can always help yourself to fresh, hot coffee or bottled water.

For over 80 years, the Napleton family has made sure that absolutely nothing is more important than our commitment to your satisfaction. You'll see it in every department of every Napleton Auto Group dealership. We hope you'll join the thousands of other satisfied customers that buy and service their vehicles the Napleton way.
Our Napleton Autowerks Loves Park Audi Dealership serves Chicagoland and the Rockford, IL, Freeport, Loves Park, Machesney Park, Rockton, Roscoe, Belvidere, Winnebago, Cherry Valley, Lena, Rochelle, Dekalb, Dixon and Beloit, WI communities. Come view our extensive inventory of new Audi cars and SUV's.
Since opening our doors, Napleton Autowerks Loves Park has maintained a solid commitment to you, our customers, offering the widest selection of automobiles and ease of purchase. Whether you are in the market to purchase a new or pre-owned vehicle, or you need financing options, we'll help you find a car loan that works for you! Even if you have bad credit or are a first time car buyer, you can trust that Napleton Autowerks Loves Park will professionally fit you into the automobile of your choice.
Napleton Autowerks Loves Park's professionally managed Service and Parts Departments are open extended hours to accommodate our customers' busy schedules; and, as always, Napleton Autowerks Loves Park offers competitive pricing for your automotive maintenance needs. Please feel free to contact us at 888-459-9005 if you have any questions or concerns.
Napleton Autowerks Loves Park offers a full line of automotive services including:
In 1931, Edward W. Napleton opened a small DeSoto franchise on Chicago's south side. He had one guiding business principle: common courtesy. That is, the customer always comes first. This principle of common courtesy has remained with the Napleton family for over 79 years, and has led to over 600,000 satisfied Napleton customers with over 67% returning as repeat customers.
As of 2010, the Napleton family owns and operates 57 franchises in 4 states. As the fourth generation of Napletons enter the automotive industry, Customer Satisfaction still tops the priority list. Whether you visit a Napleton store for sales, service, or parts your experience will be one of the industry's best.
We truly appreciate your business here with the Napleton Group. We hope you enjoy every facet of the Napleton organization with our state of the art facilities and our experienced & factory certified staff.
     Thank you,
     The Napleton Family
About Napleton's Audi, Proudly Supplying New Audi Models in Loves Park, Illinois
Whether you're from Loves Park, Rockford, Machesney Park, Belvidere, Beloit WI or anywhere in between, you can rest assured that when you shop for a new or used Audi, you're shopping for quality and reliability, no matter which model appeals to you.
Qualifying for a loan or Audi lease couldn't be easier with our on-site financial enthusiasts at your back. We know all of the ins and outs of finding quality financing solutions, and that means you can spend less time going over paperwork and more time enjoying your new car.
Once you're behind the wheel as an owner, Napleton's Audi continues to support your driving needs through our onsite service center. Our team is well-versed in everything automotive and utilizes the latest Audi parts, so you can count on solid routine maintenance and timely repairs when they're needed.
When you can come to Napleton's Audi, you can have your Audi wishes granted. And let's face it: you deserve nothing less. Located on 6600 E. Riverside Dr. in Loves Park, Illinois, we know our job isn't finished until you're completely satisfied.